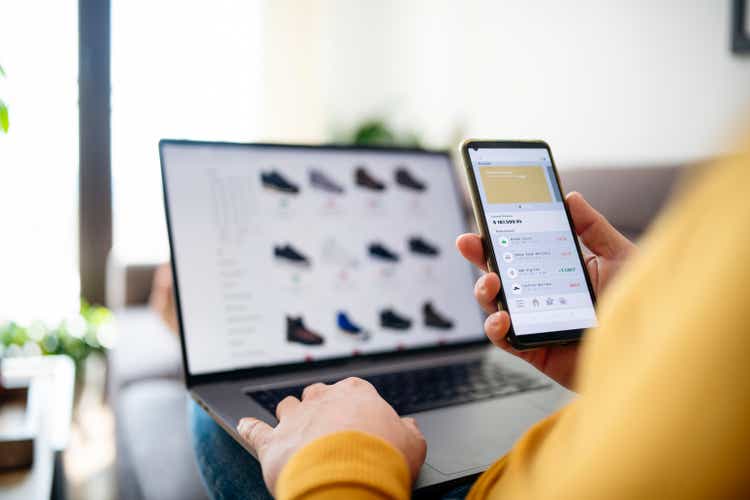 Thesis
Online shopping has undergone some evolution. Beyond the sheer convenience of making purchases from the comfort of one's home, consumers are now navigating the digital aisles with a profound sense of purpose, shopping in line with their deeply held values. This transformative shift towards value-based shopping not only aligns consumers' spending habits with their principles but also helps customers support the causes they believe in on every dollar spent shopping online. PSQ Holdings, Inc. (NYSE:PSQH), also commonly called PublicSq, adeptly caters to the conscientious consumer, allowing customers to put purpose behind their purchases. In this analysis, I'll delve into PSQH to uncover the investment and market potentials that value-driven shopping presents, and how this company could be poised for success in this burgeoning era of ethically-driven consumption.
Company and Management Overview
PSQ Holdings was founded by Michael Seifert and Sebastian Harris in 2021. Sebastian Harris doubled as the COO of PSQ Holdings until he departed from the company in late August. The company's management board received a boost in late Q2 when US politician cum businesswoman Senator Kelly Loeffler joined the Board of Directors of PublicSq. Kelly Loeffler has a track record of leading successful businesses and fundraisings, having led Intercontinental Exchange's (ICE) successful IPO in 2002 and later serving as the CEO of Bakkt (BKKT).
PSQH began trading on NYSE on July 20, following a reverse merger between a SPAC called Colombier Acquisition Corp. and PublicSq Inc. After the successful acquisition of PublicSq Inc. by Colombier, the trading symbols of Colombier and PublicSq switched from CLBR to PSQH.
Market Opportunity
Retail e-commerce is a huge market and has grown rapidly in the past decade. Value-driven retail consumer behavior has been a growing trend. Besides economic and psychological factors, cultural and personal preferences influence consumer behavior. A report released last year, known as the Wunderman Thompson Commerce Future Shopper report, surveyed over 31,000 consumers from 18 countries across five continents. This comprehensive study uncovered significant statistics related to value-driven shopping. According to the report, 65% of surveyed consumers consider ethics and moral values to be significant factors when making online purchasing decisions. 61% of respondents prefer to engage with brands and retailers that have a meaningful purpose beyond merely selling products and services. Additionally, nearly 43% of respondents have shown a preference for eco-friendly delivery options. These findings highlight the growing importance of ethical considerations and purpose-driven shopping in the online retail landscape. A similar survey by McKinsey, focusing on black beauty consumers and brands, revealed that racial inequity persists in the beauty industry, and McKinsey reports this inequity presents a remarkable $2.6 billion opportunity.
PublicSq's Q2 financial PublicSq. results released in August show that the directory of businesses on PublicSq's marketplace had exceeded 65,000 businesses as of the end of Q2, which represents a 98% growth since the end of last year. The marketplace had over 1.4 million consumers as of July 31st. I see a good market opportunity for Publicsq. Besides creating a convergence hub for value-aligned businesses and value-driven consumers, the company has also launched a subsidiary called EveryLife. The subsidiary focuses on pro-life baby product offerings.
Financials and Valuation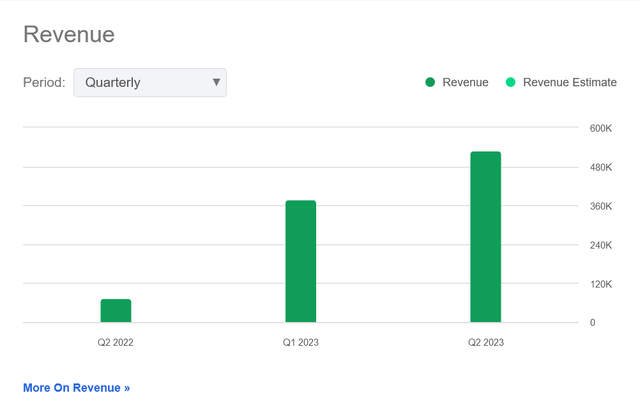 PublicSq's latest report for Q2 FY2023 shows a top-line growth increase of ~624% YoY; the latest reported revenue is $529.71k, which is ~40% more than the Q1 revenue of $378.03k. PublicSq launched its marketplace about 15 months ago. Based on this fact, I consider Publicsq a fairly nascent company, and I think there is potential for steady revenue growth in the coming years, considering the newfound quest for value-aligned consumption in America as indicated by the figures found in Wunderman Thompson Commerce Future Shopper report which I shared earlier in this analysis.
TTM revenue seen on the income statement is $1.3 million, while the cost of revenue is 92.31% of revenue, resulting in a paltry gross profit margin. PublicSq currently incurs a loss, as both TTM operating income and net income are negative. Operating expenses are high compared to the company's revenue. Based on data from the income statement, general and admin expenses account for about 80% of PublicSq's total operating expenses. As a company that launched operations 15 months ago, I feel it is logical for PublicSq to incur high SG&A expenses, as I expect the company to invest in various activities to drive growth. High SG&A expenses and negative operating profit in the early stages of companies are not uncommon. That is why I am giving this stock a sell rating at the moment because it is essential to monitor these metrics over time.
On the balance sheet, total current assets for the most recent quarter, Q2 2023, amount to $17.3 million, while total current liabilities for the same period were $3 million. This gives us a current ratio of approximately 5.7. This current ratio is excellent, in my view, from a liquidity perspective. Cash and equivalents of $6.2 million make up about 35% of PublicSq's total current assets. This suggests that a significant portion of the company's current assets is in the form of highly liquid assets.
Though cash from operations and cash for investing are negative, PublicSq's net cash change is positive as of the last financial report. The net change in cash is $3 million, indicating some cash generation rather than cash burn. This is obviously because of the $20.4 million cash from financing, derived from the issuance of debt, which offsets the negative cash from operations and investing. The cash flow situation of PublicSq is not uncommon for a growing company that is in investment mode and needs capital to fund expansion and operations. Raising funds through debt issuance could be a viable strategy to support growth while maintaining positive cash flow at the overall company level.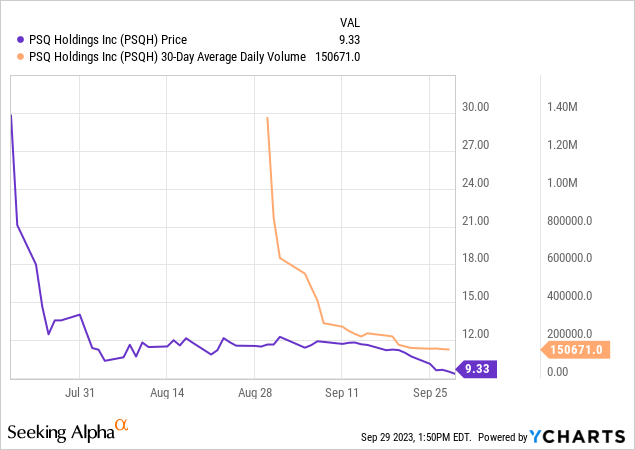 PSQH stock experienced a surge after its listing on the NYSE, surging to slightly over $21 per share – a day after its NYSE listing. The stock price has since corrected to the $10 range and has fallen by 18% in the past month. PublicSq's P/S multiple of 5.6x and EV/Sales multiple of 228.49x are currently at a high premium compared to its peers in the Interactive Media and Services sector.
Risks
Market Volatility
PSQH's stock price has demonstrated volatility since its listing on the NYSE, experiencing both surges and corrections. Investors should be prepared for price fluctuations, which can result from various factors, including internal factors like company-specific news.
Dependence on Financing
PSQH's ability to fund its operations and growth initiatives relies on successful financing activities, including debt issuance. If the company encounters challenges in raising capital or managing its debt, it could impact the company's financial stability.
Competition
The online marketplace sector is highly competitive, with established players and new entrants vying for market share. PSQH faces competition from larger e-commerce platforms, which may have more extensive resources and customer bases.
Operational Challenges
As a relatively nascent company, PSQH may face operational challenges in scaling its platform, managing growth, and maintaining quality control. The success of its business model is contingent on attracting and retaining both value-aligned businesses and value-driven consumers.
Lack of Profitability
PSQH has not yet achieved profitability, and there is no assurance of when or if it will become profitable. Investors should be prepared for the possibility of continued losses in the near term.
Conclusion
Value-driven consumption is gaining prominence in online retail, and the market opportunity is apparent. PSQH has shown healthy growth in its value-driven consumer base since its launch. However, this is not a stock I would invest in at the moment because of factors I already mentioned in the Risk section of this analysis.